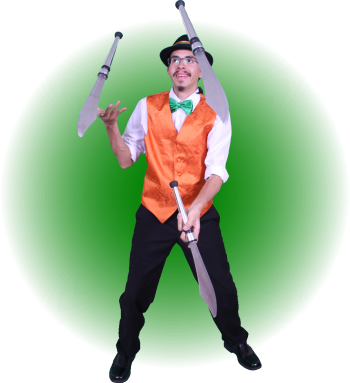 Thanks for your interest in having me at your event. There are a few ways to start my hiring process, the simplest of which is to fill out the gray form, or to call/email me.
In order for me to best cater my services for your event please let me know your event date, time,  location, and any other information you have.
Please note: After filling out the form, I will contact you. If I'm available for your event, you will be sent a
booking deposit
invoice and see your event on my
Upcoming Events
page when officially booked.
Also check out my
Services Offered
page to get an idea what types of things I could do at your event!
See Services Offered
Have a question? Check out my
Hiring FAQ
and it may already be answered. If not,
contact me
.
Frequently Asked Questions
Hire on GigSalad or TheBash
Alternatively, if you have accounts on either of them you can book me through GigSalad or TheBash. Below are my inquiry forms for each of the sites.
Frequently Asked Questions
What's a Booking Fee (Deposit)?
A booking fee (deposit), is a portion of the full event price paid before your event. It is payable online through PayPal or on various booking sites like GigMasters or GigSalad. I collect a booking fee before my events to ensure my availability and to reserve requested time on my calendar. Your booking fee is fully refundable up to a week before your event date. Please note, the booking fee is not an additional charge to what you have been quoted.
Why do I not list my prices online?
Because many events differ for the entertainment services I offer, it's difficult to give an exact price that covers the need of all events. Pricing is also partly dependent on how far I need to travel. It's best to contact me and we can negotiate pricing as well as the time and services offered to best meet your event's needs and theme.
What to expect?
Clients can expect a professional entertainer dressed for the occasion. I have a variety of costumes to best fit your event or show. During my time there I will interact with crowds in an appropriate, friendly, and coherent manner, be it on the stage during my choreographed routines or close in person entertaining guests on the side. For teaching you can expect clear and understandable instructions targeted towards your learning style and skill level. I can teach complete beginners to advanced jugglers. And most of all you can expect a juggler knowledgeable of many tricks to give you and your guests an amazing time!
When do I arrive?
I will call the day before to check in with you, and also send you a text a few hours before leaving to your event. The day of your event, I will arrive at least 30 minutes to 1 hour before showtime to designate the performance area, to set up, and to ensure everything is ready to go by show time.
Danger Juggling!?! Am I insured?
Safety is a high priority for myself, my audience, and the venue I'm performing. I am a fully insured entertainer and am trained in fire safety to keep both myself and your guests safe during my shows. I am also CPR certified.

As a fire performer, I've performed hundreds of shows without ever having an issue. For fire performances I require approval from the venue as well as an open area clear of flammables to fire spin. I have my own fire extinguisher and duvetine blankets for fire safety. If you would like night entertainment but the venue doesn't allow fire I have LED juggling props that make a perfect alternative.
Do I have my own sound system?
I have my own portable speaker system, microphone, and portable lights/blacklight so you don't have to worry about providing a sound or lighting system yourself. They are all battery powered and don't need an outlet. If you do have a larger stage and sound/lighting technicians I can provide music either on phone, USB drive, or through email; and I will go over lighting and sound setup with the technicians before the show.

How much space do I need?
For stage shows the stage itself should have enough space for me to perform and move around. I have performed on small stages before that were very close to the crowd and with low ceilings. When strolling around events, or during dinner time I have a variety of portable acts I can do in between tables and walking guests, and I will adjust to safely perform the tricks.

If your event does not have a stage, that is perfectly okay too! In that case, be sure to clear out part of your yard or house to provide at least 10ft x 10ft where I can perform. Keep in mind, I can perform my most amazing tricks in bigger spaces, especially ones that allow me to toss high. Also for unicycling I require a flat surface to ride on.

Do I only perform solo?
I sometimes perform in groups with my friends. If you would like multiple artists who offer circus entertainment, balloon twisting, face painting, magic, etc at your event I would be more than happy to reach out to my friends and find who's available. Do keep in mind, having another entertainer join me will raise the price I charge for your event to cover their costs. You don't need to worry about hiring and paying us as a separate companies. I will handle payment delegation to the other performers that join me.

How big of a class can I teach?
The size of the class is usually limited by how much gear I have. I do have enough gear of various props to be provided for guests to use; specifically for diabolo lessons I can accommodate a class size of up to ~180 (groups of 3 sharing one 1 diabolo). For ball juggling I can also handle large classes, and I even can lead the class through a crafts workshop where we make balls out of balloons and birdseed. Other types of things I can teach include rope dart, plate spinning, feather balancing, etc. Gear can also be made available for purchase for those interested in pursuing their practice further.

Additional questions???
If you have any further questions please feel free to ask me through email, text, or via call and I would be more than happy to provide you with additional information.

Contact Page
(669) 247 - 2031
dracothejuggler@gmail.com